The IFC format is an open and extremely important data exchange format in the openBIM concept.   These files contain data about the object such as geometry, position in space  or  attributes of individual elements used in the project. It allows designers from different industries to work together, no matter what software they use, as it is not tied to any specific BIM software. Unfortunately it happens, but sporadically, that during the exchange of data between different programs, there may be a loss of some information.  
The IFC format, due to its general availability, is increasingly appearing in the requirements for projects implemented for public procurement.
The ArCADia BIM program has the possibility of expanding it with the ArCADia-IFC RVT 2 module, allowing, among other things, to import and export models in IFC format (to IFC2x3 format).
In principle, the scenario of the procedure is simple - work on the design is started by an architect who, in accordance with the investor's wishes, creates a model of the building. Then it is handed over for structural development and the equipment with technical installations.  Until now, this has been done by providing 2D drawings and cross-sections, supplemented with descriptions. Currently, projects created in BIM technology allow you to provide a three-dimensional model along with information about the elements used,  e.g.  regarding the construction of walls or roof.
If the architect has made the project "in BIM", using appropriate tools, instead of 2D drawings he can pass on the project to the other participants in the IFC format. An additional advantage of the model in this format is the limitation of its editing capabilities - no one will make any changes without the knowledge of the creator (you must first process such a model properly). If changes are necessary in the design process, they can only be made by the architect updating the model. It also works the other way around – the IFC model of the designed installation is not freely edited by people who are not its creator (e.g., the contractor and he will not replace the materials used without the designer's consent).
The functions of the ArCADia-IFC RVT module can be found on the System ribbon (logical group - Communication) and the Insert ribbon (Data logical group - Data) and Collaboration (logical group - Export). IFC files apply to the following options: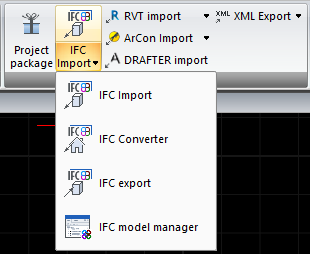 IFC Import - Imports all project from an IFC file.

IFC Converter - Imports elements from the IFC project by converting them into ArCADia objects.

IFC Model Manager - opens a window managing the models entered into the project.

IFC - exports all or selected project elements to a file in the IFC format.
Therefore, if as designers we receive a building model in IFC format (e.g., from Allplan, Revit or ArchiCAD programs), we have two options for loading it into the project – via Import or Converter.