The Object Explorer contains three types of elements: 3D objects, 2D symbols and Layouts. The 3D objects are primarily interior design elements, but also trees, garden furniture and basic solids from which you can create your own decorations or objects.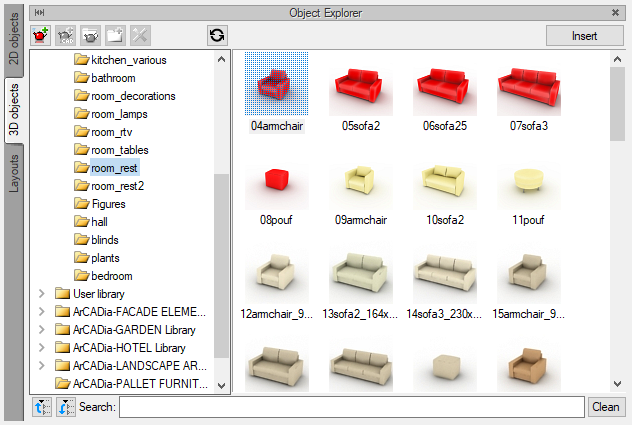 The 2D symbols are elements that we introduce on the View as additional information, e.g. marking the entrance to a building or a wheelchair symbol placed in a toilet for disabled people.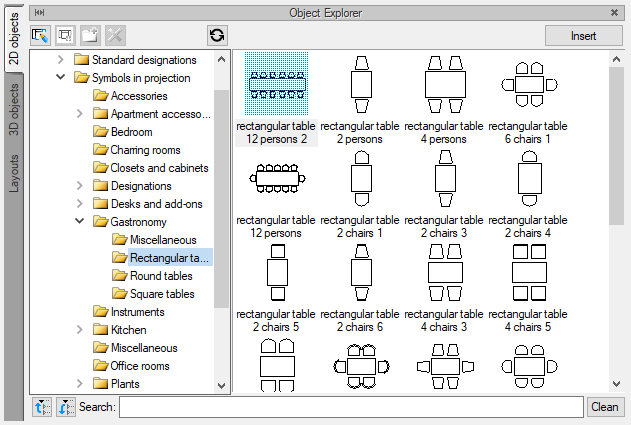 The layouts are groups of system elements saved as one object, which can be separated into individual elements if necessary. A set of 3D objects, e.g. a table with chairs or a fireplace created from basic geometric elements, are examples of how to create a layout.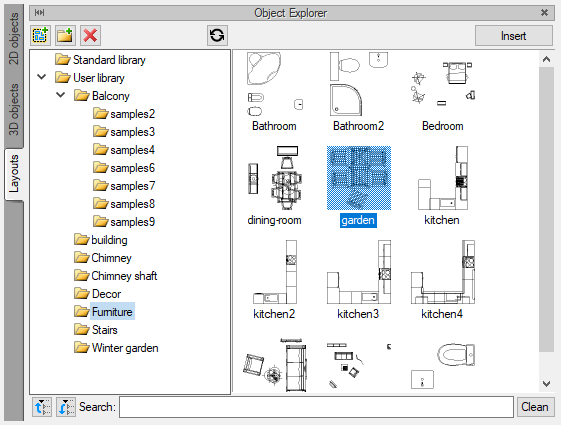 In the first two types of elements, the program has a built-in program library. However, layouts are created only by the user.
The 2D symbol and 3D objects library can be expanded.
For example, if we draw a 2D symbol using CAD program elements: lines, circles etc. and we describe it, we can save it to the library as another 2D object and use it in future projects. The 3D object library can be expanded by importing the following files: .aco, .o2c, .3ds, .xobj3d and .obj. We can import 3D objects in the mentioned formats in the Object Explorer window in the basic version of the program. There is another format that can be used to enlarge the library. This is a .dwg file, but the procedure is different in this case. You need to open the file in ArCADia, then from the Object Explorer select the Import 3D object from DWG option.
If you have the additional ArCADia-ARCHITECTURE module, you can also make a 3D object from system elements, e.g. a solid or several complex objects.
The 3D Object Explorer can also be expanded with additional  libraries available from the ArCADiasoft company.